JJ Churchill today (28 October 2016) announced that it had made a £1.5m investment in new technology, new people and new systems to meet growing aerospace industry demand. The company is now well placed to meet the expanding opportunities across the European supply chain for engines for the next generation aircraft.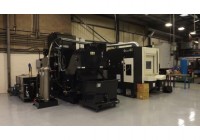 The new investment in Makino 5-axis VIPER CNC grinding capacity and a Doosan 5-axis machining capacity, linked to advanced information-management systems, enables the machining of complex, precision components in advanced nickel-based alloys.
At the same time the company has increased its headcount by 20% this year though, like many companies across the industry, it has found that highly-skilled engineers are a scarce resource. To address this challenge, JJ Churchill has adopted a twin-track approach of developing its existing workforce alongside putting engineering and process development effort into robotics and automation, to enable global cost competitiveness.
The company's aerospace sales have increased by 60% in the past year, doubling in importance to the company and now contribute two thirds of the company's total sales when combined with activities in the industrial gas-turbine sector.
It has improved its processes with the introduction of SEIKI Systems' data management, which is seen as the first milestone in the company's capitalisation on the '4th Industrial Revolution'.  The company is also trialling a new approach to metrology which is showing significant benefits in validation and huge reduction in inspection times – to the order of 70% improvement.
Andrew Churchill, Managing Director said: "The market for aerospace engines is seeing substantial growth, and we have invested heavily in technology, people and systems to address this demand. We are able to continue to meet the growing needs of our existing customers, while at the same time our strong reputation in the marketplace is attracting new customers and new markets within the sector. The business is on a sound footing to capitalise for the next stage of growth."