New innovative process melds the best of traditional and additive manufacturing for aerospace industry.
JJ Churchill has reduced the time to prepare fixtures by 70% in its CMM quality inspection process, and reduced costs by 50%, using 3d printing. The company worked in partnership with HK3D to produce the fixtures, which are being used for an OEM in the aerospace industry.
The fixture was needed to hold the components in the most effective orientation for the CMM. It needed to deliver repeatable precision loading and ease of use. Usually, a fixture could only be manufactured once the components have already been machined. This process typically took two weeks.
JJ Churchill worked with HK3D to design and deliver a working fixture in three days. Traditionally the fixtured would have been manufactured by machining out of a block of metal. The new process not only saves time but also reduced costs by half, with much less waste.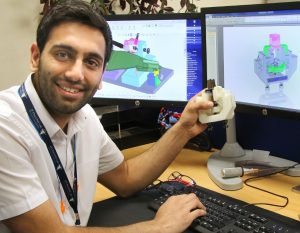 It also removed a potential bottleneck. Traditional manufacturing prove-out processes follow a linear path:
1. Write the CMM programme
2. Wait for components to be machined
3. Prove-out CMM programme
4. CMM programme for production
Steps 2-3 can be a bottleneck. JJ Churchill and HK3D developed an alternative solution for fixturing to remove this bottleneck.
Karan Singh, one of JJ Churchill's manufacturing engineers and the lead in additive manufacturing, said: "The benefits of bringing 3d printing into traditional manufacturing process are huge. In this project, not only did we achieve significant savings in time and money, but our knowledge and capability has rocketed."
"It made us analyse a problem in different ways and pushed our way of thinking. It has also changed the way I think as a design engineer, and I have found it highly fulfilling.  This is a great example of additive and traditional manufacturing working in synergy to deliver huge savings in time and money."
Managing Director Andrew Churchill said, "This is another example of JJ Churchill applying emerging technologies to component manufacturing and inspection techniques. The adoption of 3d printing and its application to the way JJ Churchill engineers products fundamentally increases our agility as a business to meet our customers' new product Introduction timescales, whilst at the time reducing the cost of tooling."
Tom Smith, Sales Manager of HK3D, added:
"By investing time into this project, JJ Churchill have worked closely with our team of application engineers to fully optimise our range of additive technologies. As a result, they have really started to unlock the true benefits of additive manufacturing. With new ground-breaking technologies on the horizon we are excited to see how JJ Churchill's team will continue to evolve and apply them to their existing manufacturing processes".
JJ Churchill produces bespoke fixtures to hold the complex range of parts being machined on site. These fixtures are precision machined components which comprise many intricate parts. This is often a time-consuming and resource-hungry process, involving many machines and many skilled engineers. Employing additive manufacturing in some aspects of the production process is making these resources work more effectively.
HK3D have been providing manufacturing technologies to the UK market for over 60 years. Its team of manufacturing, production and design engineers have extensive industry experience and are all employed to offer value to our customers.