Award winning team JJ Churchill Ltd and Dixie Grammar School
The Engineering Development Trust (EDT) is a leading educational charity which has been set up to engage businesses with education in order to stimulate students into utilising (STEM) science, technology, engineering and maths based careers and courses. The geographical area, in which the EDT operates, is the Midlands, the North, South East, South West and Scotland.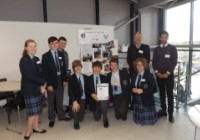 One of the programmes administered by the EDT is the Go4SET programme. This is an environmentally themed 10 week project for schools to take part in; it is aimed at 12-14 year old pupils (year8/9). Its mission is to inspire students towards STEM related careers by linking education and industry in real life situations, using hands on learning and skills development. The pupils will benefit from project management experience, as well as personal development skills to enhance their team working. The main aim being to highlight the exciting future opportunities in STEM related subjects at further and higher education, this will in turn go towards securing technology based skill sets for the UK market.
For the Midlands area, 20 Grammar schools and Academy's signed up to take part; these schools had to go out to approach local businesses to help support them with their chosen project, the project was selected from a set list. Dixie Grammar school in Market Bosworth needed to find a local business that utilised science, technology, engineering or maths in its day to day operations. They selected JJ Churchill Ltd, a precision Aerospace engineering company based in Market Bosworth, as a first tier supplier of highly complex aerospace parts, into many blue chip companies worldwide. JJ Churchill needs to meet incredibly high quality standards and the products require internal project management.
This long term view taken by the EDT is to get pupils to start thinking about possible careers in UK manufacturing and engineering. It was this view that first attracted JJ Churchill to get involved with this project, and as a way of engaging the pupils, "Mentors" were selected from JJ Churchill staff to help guide them with their selected project. Their selected project was "My School is an Island".
In this project a team of 6 selected students were ask to consider what if there school was on an island?… How would they get amenities supplied to it for example; electric, gas, water, food etc… also how would the students travel there and so on. The key point to take into account is that they were asked to "Think Green" when doing the plans for this and to keep the carbon foot print to a minimum.
The JJ Churchill Mentors consisted of, Mr David Sidwell HR Manager, Callum Coyle Trainee Quality Engineer and Karan Singh Technical apprentice. These mentors gave a couple of hours every week to go and support the school, to help the pupils realise their vision "My School is an Island", the students also visited JJ Churchill to see the plan that they had crafted, modelled up to a full scale 3D CAD model, which was then used as part of their presentation.
The Dixie Grammar pupils were tasked to complete by the end of the 10 week programme, a professionally written and bound report outlining the whole project, a five minute presentation was also required to be presented to a panel of assessors plus they had to produce a stand to exhibit and demonstrate visually their project vision.
We are glad to announce that from that pool of 20 Midlands based schools Dixie Grammar took 1st place with their project. JJ Churchill Ltd would like to take this opportunity to congratulate the team on its successful project and hope that this type of exercise has open their minds up to the opportunities that are encompassed within UK engineering and Manufacturing.