JJ Churchill completes 2021 placement programme with students from Oxford, Swansea and Loughborough Universities
JJ Churchill, precision engineering specialists, completed their annual Placement Programme in July after a year of post-pandemic recovery and business growth. The programme began several years ago and has brought in four students to bring fresh ideas into the business.
The company provides a positive work experience for many locals and placement students by applying best practices to their tasks and duties. A main goal for the company is to continue their sustainable growth by continuing the annual placement programme and building their future workforce and enabling the individual to develop professionally and personally to improve their employment opportunities.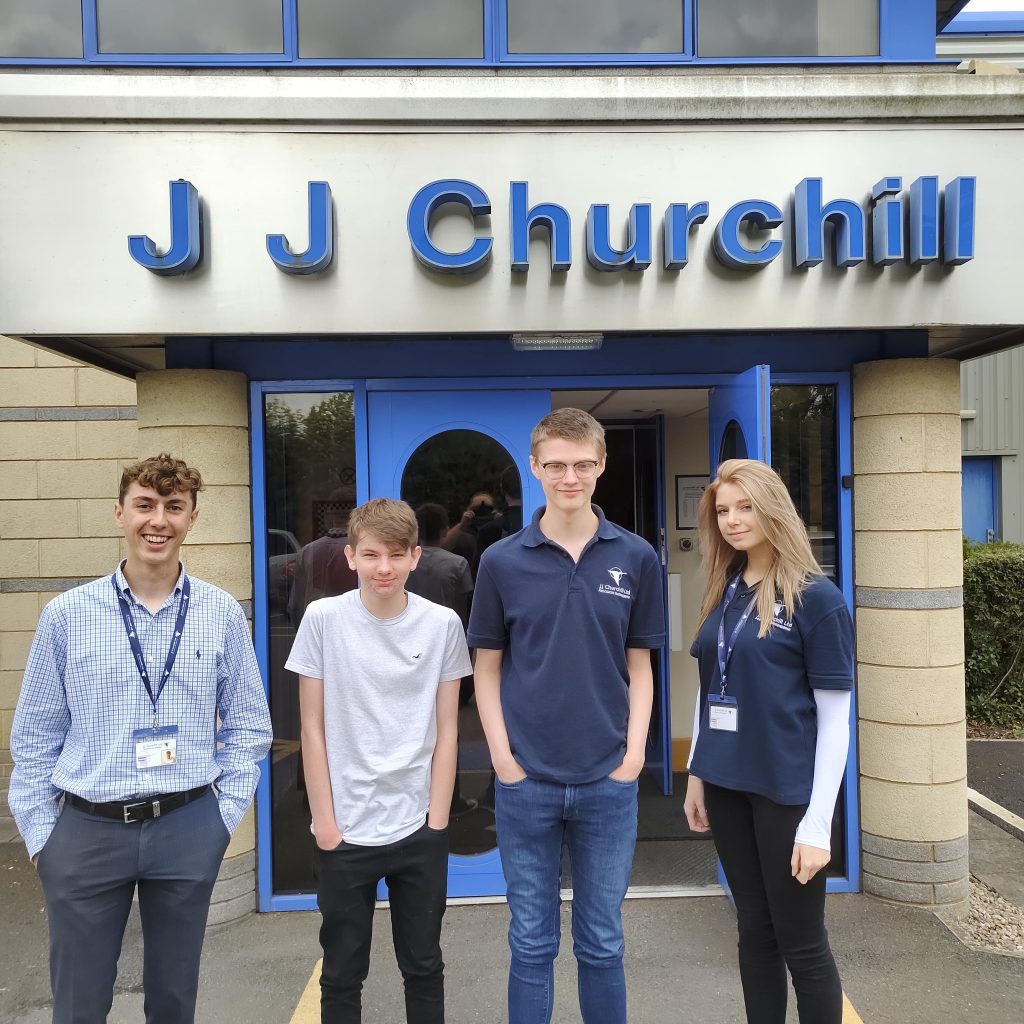 Sarah Gregory, Head of HR at JJ Churchill, commented: "We are committed to the recruitment interns every year as this gives us the opportunity to support the development of young people as they take their first steps into the world of work. The benefits to us are multi-faceted but include the ability to apply fresh eyes to our organisation, generate new ideas, and the ability to deliver tangible results into the business from short term targeted project work."
"Our interns are always welcomed into our organisation by our team and with a strong induction are able to hit the ground running very quickly. There is a richness and depth that we gain from our internship programme that enhances our culture".
As the Placement Programme comes to an end this year, three interns reflect on their time at JJ Churchill and how they benefited from their experiences.
Callum Inman has been completing an Internship at JJ Churchill whilst studying Engineering Science at Oxford University. He said that "it has been an opportunity to explore practical rather than theoretical challenges and experience real engineering problems in a friendly environment". In his internship, Callum has enjoyed his time leading the implementation of Seiki Systems and practising his newfound skills. "The time I've spent with JJ Churchill has been rewarding, it has allowed me to learn manufacturing and business operations first-hand".
"My studies at Oxford are exposing me to the theoretical foundations of engineering. At JJC, placement students can see, in action, innovative engineering and collaborative problem-solving. The volume of practical knowledge and skills learned here over the course of eight weeks cannot be taught in a lecture theatre. I have taken a large step in pursuing a potential career in aerospace or precision engineering and perhaps becoming a chartered engineer."
Lauren Oliver, Marketing Assistant, has been on the placement programme while studying English with Creative Writing at Loughborough University. She graduated last month at the top of her cohort and she will start a master's degree in Creative Writing later this year while working part-time at JJ Churchill.
With an interest in PR, marketing and communications, Lauren commented that her time at JJ Churchill has broadened her skill set and knowledge by giving her "real-life, face-on experience in an established company". Lauren began working for JJ Churchill in 2018 and has returned twice since. "My colleagues are engaging; the work is interesting and the opportunity for progression tangible. It is a fantastic place to work!".
Rory McKenna has been working in the finance team for JJ Churchill and additionally, he has been reviewing and updating the costs of manufacturing along with the inward and outward processing relief. "I have learnt how a business should function. In particular, I learned that a lot of communication is needed between the various sections of the business in order for it to run effectively".
He added that his internship has given him real-world experience in the world of finance, a career which he is working towards. Rory went with JJ Churchill for his internship because he needed financial experience in a working environment and the business is successful and thriving. After being awarded a first-class degree in Economics and Finance, Rory is returning to university shortly to study for a master's at Swansea.
JJ Churchill have also provided apprenticeships through their 'Mechanical Advanced Training Plan' for over 80 years. This four-year apprenticeship includes the options to proceed onto a progressive course such as a 'Technical Support NVQ Level 3, HND' qualification or a degree.
JJ Churchill is active in the Power Generation, Aerospace, MedTech and Defence industries. Last week the company won Apprentice Employer of the Year at the Leicestershire Live Business Awards for its pioneering programme.